School Meals
School meals are cooked daily on the premises, and are available at the current rate of charge of £2.60 per day. Glen Park Primary operates a cashless system for the payment of school meals and school trips. For further information about this cashless system, please click on the following link:
The School Meals service is provided through 'CaterEd', a partnership between Plymouth Schools and Plymouth City Council. To view the current Summer menu please view the document at the bottom of this page.
From September 2014, all Foundation Stage and Year 1 and 2 children will be entitled to a 'universal free school meal' under new Government legislation.
Parents who are receiving Income Support are entitled to free school meals for all their children attending school. All parents who qualify for free meals must complete an application form, available from the School Office. The completed forms may be returned directly to the School Meals Section of the Local Authority, or to school, where they will be forwarded on. The entitlement to Free School Meals expires annually and we will advise parents a short while before this to allow a new claim form to be completed where necessary.
If you prefer, your child can bring a packed lunch. Supervision for eating of packed lunches is provided. All children staying to lunch are expected to behave in an acceptable manner, and be courteous and obedient to the Meal Time Assistants.
The schools Local Advisory Board have recently amended the School Meals Policy and the way in which meals are ordered, so that our practice is in line with the other schools in the Plym Academy Trust. This will ensure that there is a consistent approach across the schools within the Trust towards managing debt incurred by parents whose children take school dinners.
To view a copy of the School Meal Debt Recovery Policy click here.
Please note that the menu below runs from September to December 2023.
We offer a cold packed lunch option too which consists of the following:
Monday - Ham Sandwich, Tuesday - Tuna Sandwich, Wednesday - Cheese Baguette, Thursday - Roast Meat Sandwich, Friday - Ham Wrap
together with some salad, crisps, water and a a dessert.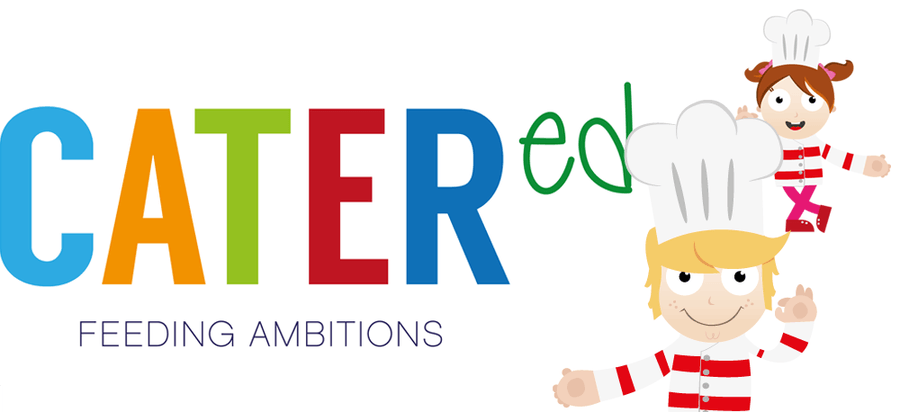 CATERed
WHO ARE WE?
CATERed is a co-operative trading company which is jointly owned by 67 local schools and Plymouth City Council.
CATERed are passionate about providing the high quality, great tasting and appetising school food to children and young people across the city. Over 86 per cent of our menu is made from scratch every single day!
Why is Ed's lunchtime menu truly awesome?
Because CATERed use seasonal, local and organic ingredients - we believe every child and young person in Plymouth deserves the best!
We're proud of our achievements and we're recognised nationally as being amongst the best in the country.
We work with our suppliers to ensure that we treat animal welfare as a priority and because we source as much food as possible locally and from within the south west we're also working with and supporting local growers and producers. Using only free range eggs we hold the Good Egg Award.
We ensure that we are at the forefront of the school food industry and national developments to support our work with our schools and all our menus for primary and special schools meet all the Government requirements.
We understand that schools have their individual needs and we work with them to ensure that we deliver the best for the school and all of their pupils!
Please click on the link below to access a short video which showcases the work that CaterEd under take at Glen Park primary and across the city.
https://www.youtube.com/watch?v=j4LXgGoK2l8