Year 4 Home Learning Page -

This will be updated on a daily basis through term time, during periods of school closure.
Background Information for Parents
This term in literacy the children have been working on:
Through the tasks that we set, we will expect the children to try and use the above skills in their writing. We will include tasks through the home learning, to support them in consolidating using these literacy devices
This term in mathematics the children have been working on:

Times tables up to the 12 x tables.

Multiplying - up to a 3-digit number by a 1-digit number using the column method.

Division – up to a 3-digit number by a 1–digit number, including division with remainders.

The calculation policy on this website (https://www.glenpark.plymouth.sch.uk/curriculum/maths-provision) will support you with this.

Fractions – equivalent, converting improper and mixed number fractions, adding and subtracting fractions. (Mrs Cole & Mrs Gilligan's set)
Through the tasks that we set, we will be revising the skills above and will include revision of key skills (e.g. place value, addition and subtraction, problem solving, shape and measure etc.)
Teachers' contact details
If you need to contact your child's teacher or would like to share home learning please email using the address below:
cbrind@glenpark.plymouth.sch.uk
fgilligan@glenpark.plymouth.sch.uk
ncole@glenpark.plymouth.sch.uk
Many thanks
Miss Brind, Mrs Gilligan & Mrs Cole
Click here for an example Home Learning Timetable for Year 4
Summer Term Home Learning
We will upload the daily tasks onto the website the evening before so you have chance to have a look at the resources ahead of time, and we will email you every Sunday to briefly explain the activities and to remind you the tasks will be uploaded onto the website. There will be a daily Literacy, Numeracy and learning experience task for the children to complete. We would like it if you could email your child's class teacher at least one piece of a work a week so they can see what your child has been doing and to reward dojos.
We would like you to continue to encourage your child to access Spelling Shed, Times Table Rock Stars and Numbots daily. They should read for 30 minutes every day and remember they can now take an AR Quiz at home. The activities for TTRS and Spelling shed will be explained below.
We will be checking which children have been on TTRS and Spelling Shed at the end of each week and awarding dojos to those children who have completed some of the sessions. We will also be awarding dojos to children who quiz on AR, so please ensure your child is quizzing regularly.
Literacy
Tuesday 2nd June
We will continue to set our literacy lessons through, Oak National Academy. Each lesson begins with a video of a teacher, teaching the lesson content and introducing and explaining the tasks, at the end of some lessons there is a quiz to show your child's understanding of the content. The only equipment your child will need is a piece of paper, pen/pencil and access to the internet. The lessons are planned to last an hour but please remember this is only a guide and just do what you can. We do hope that you and your child find this format more supportive and engaging.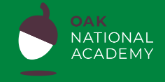 All you need to do is follow the link which is posted below and it will take you directly to the lesson which you need for that day.
https://www.thenational.academy/year-4/english/story-reading-comprehension-fact-retrieval-year-4-wk2-2
We would love to still see their achievements so please continue to photograph their work and email it to us and we can issue dojos for their efforts! Please also contact your child's class teacher if you have any questions or need any support with the new resources/website.
TTRS - On TTRS we have set daily sessions on both garage and studio which we would like them to complete, but they can also choose to play additional games as well on both garage and studio.
Spelling shed - There are two lists for the children to practice; challenge words and words with the suffix - sion.
Learning experience
This week we will be setting a task each day, and these will be posted below. Each task this week is linked to ' The Normans' which is the history topic the children would have learnt at school.
Monday - We would like the children to complete some research to find out who the Normans were. There are questions and links for the children to use on the word document.
Tuesday- Today we would like the children to learn all about 'The Bayeux Tapestry'. See more details of the activity on the word document below.

Numeracy
Tuesday 2nd June
This work is for both Mrs Gilligan/Mrs Cole's set and Miss Brind's.
Just to let you know, this is a revision of what the children have previously learnt in school.
Click on the link: https://whiterosemaths.com/homelearning/year-4/ then Summer term: Week 5 (18th May) Lesson 2: Equivalent fractions (1) The activities and video are available to download/watch on the link.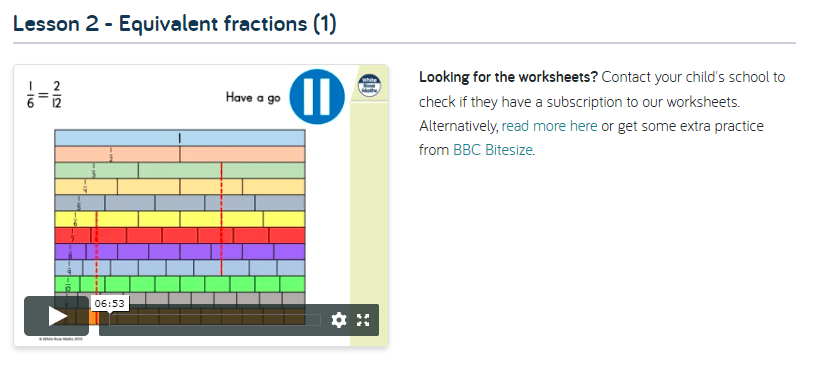 We have also attached the questions and answer sheet below. You will need to download these as you can longer download these from the whiterose website, you can now only watch the videos on the whiterose site.
Lesson-2-Equivalent-fractions-1-2019.pdf
Lesson-2-Answers-Equivalent-fractions-1-2019.pdf
Watch the video and then complete the 'Get the Activity.' Which you can find below.) If you are unable to print the page, the children can use this as a textbook and write their answers on paper. The answers are also provided.
Please be aware, the questions will become increasingly more challenging and the children will be required to apply their understanding in different ways. (They are familiar with this structure as it is similar to the work they complete using Power Maths.)