School Council 2016/2017
Our School Council were is made up of 10 pupils from Year 2 to Year 6.
This years school council members are
Year 6 - Jessica Hambly, Nathan Hood
Year 5- Nathan Hood, Sydney Preston
Year 4 -Reese Spear, Laci Skinner
Year 3- Isabella Kingdom, Shammy Matazu
Year 2- Maya Chappel, Jacob House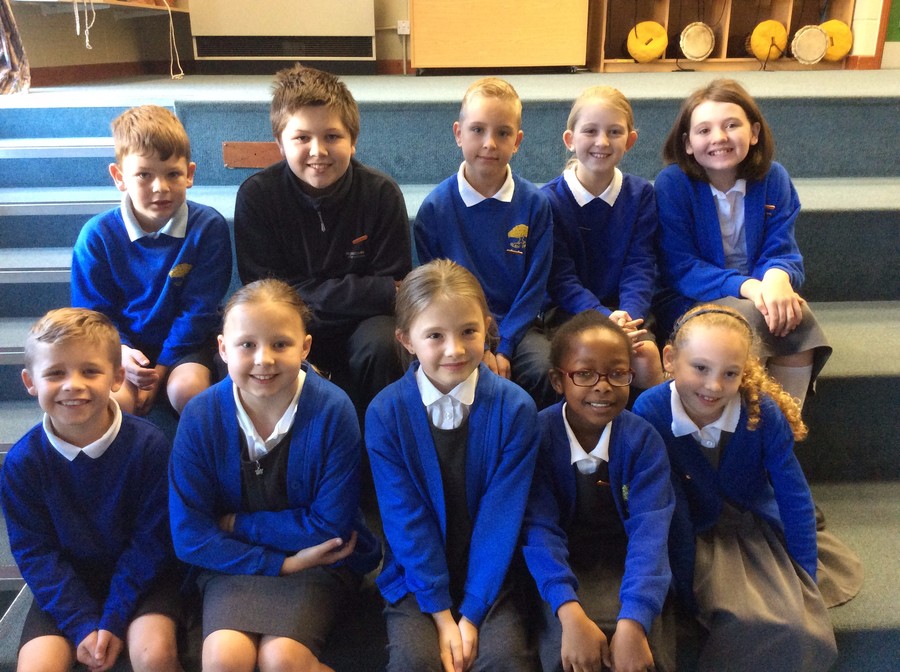 Priorities for 2016-2017
To elect council members democratically.
To improve play times.
To create a link with another school internationally.
To hold a charity event.
April 2017
New KS2 Playground Rules
Mr Hutchings conducted a survey to ask the children how they felt about play times.
They enjoyed their time outside however some were concerned that they may get hit by a ball from time to time.
The children of the school council looked at the School Improvement Plan and decided to help the school by coming up with ideas for improvement.
Over the last few months, the school council made the following decisions;
Children in year 3 and 4 and years 5 and 6 will merge between the two playgrounds.
There will be different zones so that we are all aware what will go on in each area.
The zones have been identified on a map.
They purchased games using the profit from the tuck shop and a shed to store them in. Finally they conducted an assembly to inform everybody of the changes.
The Great Glen Park Bake off 31st March 2017
A big 'Thank you' to everyone who entered for the Bake off. We were so impressed with all the entries. There are some really talented bakers in our school and the judging was such a difficult task.
The prizes were awarded as follows
Showstopper- Sienna Bell
KS1- 1st Prize- Ellis Smith 2nd Prize- Katie Ackland 3rd Prize- Bryce Mills
Highly Commended- Jessica Julian
KS2- 1st Prize- Aimee Woodman 2nd Prize- Martha Davies 3rd Prize- Bethany Packham
Highly Commended- April Howitt
The event made a total of £529.24 which will go to 'The Gambia Schools Trust' supporting Jamwelly School, which the school council are in communication with. Thanks to the 'Friends of Glen Park' for helping us out on the day.
The Great Glen Park Bake Off
Friday 31st March
The School Council are looking for entrants to take part in 'The Great Glen Park Bake Off'. This will take place on Friday 31st March during school time.

For this fantastic event, you are invited to enter the following categories;
Foundation – Year 2 - To bake 4 small cupcakes decorated with an Easter theme.
Year 3-6 - To bake either 6 small cupcakes or 1 large cake decorated with an Easter theme.

The competition will be judged by Pat and Nicky, the lovely ladies who make our school dinners. The winner of each category will receive an Easter hamper and there will be a small prize for 2nd and 3rd places. There is an entry fee of £1.00. The money raised will go to The Gambia Schools Trust, a charity that supports Jamwelly School, who the School Council have written letters to and hope to build a link with.

January 2017
School Council Update
We have had a lot of discussions about how we intend to improve break times in school focusing mainly on the KS2 playgrounds. The school council decided that they would like to make different zones so that there is more to do. We intend to use some of the profits that we have made from the tuck shop to purchase some outside games. Over the next few weeks we will be sharing our ideas with the rest of the school.
We have now sent our letters off to Jamwelly School in Gambia (part of the Gambian Schools Trust) . The school councillors worked hard to write detailed letters telling them about our school and we hope to receive a reply soon.
We are also considering holding a charity event just before the Easter break to raise money for the Gambia Schools Trust.
November 2016
Learning about an International School
On Wednesday 16th November, we had a visit from Beth Taylor. As part of 'The Gambian Schools Trust' Beth visited Gambia and worked with different primary schools.She came in to tell us about the schools she visited. It was very interesting for the school council to learn that many parts of the school day were different to our own.
They enjoyed looking at the photos and videos that Beth brought in. We have decided to create an international connection with the school and the children have been asked to write letters with information about themselves and their families.
November 2016
Sports Ambassadors
As part of our mission to improve playtimes, we invited some year 6 children who have been training to be sports ambassadors. This means that they would spend lunchtimes working with the younger children to play different sports and playground games.
They came to talk to us about their training and we discussed what kind of things they would be doing. They asked our opinions about the different games they should introduce and how soon they could get started. We made the decision that we would get started straight away so look out for the sports Ambassadors in Foundation, year 1 and year 2.
October 2016
Democracy
We had a visit from Chaz Singh, a local councillor, who talked to us about his role and how he been elected.
He was very informative and helped us to think carefully about our manifestos.
Before voting took place, the children were given a chance to share their thoughts and opinions in class. We then opened a polling station where they were given the chance to vote for the new school councillors.